Flamecut Blanks and
Lumsden Grinding Steel Stockholding
Randalls (Profiles) Ltd, are a specialised Flamecut Steel Profiling Company based in the heart of the West Midlands. We supply a range of industries including automotive, construction, engineering and many more.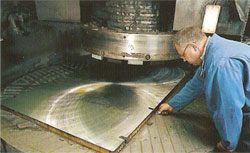 Multi-headed CNC cutting machines linked directly to our drawing office software, provide accurate cutting for one-off profiles and batches, and promote fast set-up and production times.
Profiles are nested together using the latest CAD software to ensure efficient utilization of materials. We can receive your drawings or templates by post or fax, or we can import your CAD files directly (in DXF, IGES or CDL format), from disks or email.
Our sales team provides a personalized service, and is happy to discuss your individual requirements including heat treatment, ultrasonic and material upgrades. We carry a range of materials in stock on our premises, ranging from 6mm to 400mm thick with full mill test certificates.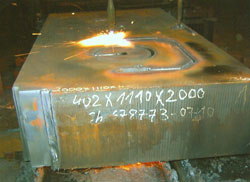 Complementing our cutting facilities, we have extensive finishing services. Our range of Lumsden Grinding Machines provides capacity to grind profiles of up to 2700mm across corners.
All profiles are finished to a high standard and are hydraulically flattened and deburred. They can also be marked with your reference number and palletised to provide quick and easy unloading and handling.